specials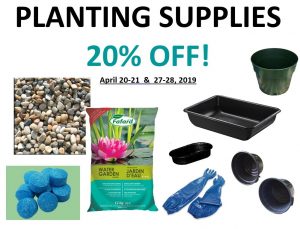 Planting Supplies Sale
Saturday April 27 & Sunday April 28
Receive 20% off Planting Supplies such as Fafard Water Garden Soil, Trico Fertilizer Tablets, Gravel, Planting Containers and Pond Gloves
2019 events
WATER LILY & WATER PLANT DIVIDING DAYS
Saturday April 27, 9am – 3pm
Bring your lilies, lotus, and shallow water plants to be divided! Our experienced staff will divide your root-bound water plants free of charge! Replanting can also be done at 40% off our regular prices (contact us for more details). Watch, ask questions and learn while our staff works. You may also drop off your plants for us to divide and pick them up later. No appointment necessary. ***Please call ahead if you are bringing more than 10 plants to be divided***
SPRING POND OPENING SEMINAR/Q&A
Saturday April 27, 11am
Learn the ins and outs of getting your pond going for the season! Seminar may include outdoor demonstrations, weather permitting.
KIDS POND ECOLOGY WORKSHOP
Saturday June 8, 11am – 12pm
A fun and informative workshop! Kids aged 5-10 get to create and take home their own mini pond and learn about pond ecology. There will also be a wetland tour! Registration fee is $35.00 per pond to cover the cost of supplies. A limited number of spaces are available. Please register before June 5.
THE SNAKE LADY
Saturday June 8, 11am – 3pm
Valerie Williams – "The Snake Lady", will bring an exciting collection of reptiles and amphibians for everyone to enjoy! Ask questions and have fun with friends at this educational and informative experience!
SUMMER SALES DAYS
Saturday June 29 – Saturday July 13 – Closed July 1 for Canada Day
Our biggest sale of the year. Everything will be on sale. All Plants, All Hardware, All Fish and EPDM Pond liner will be on sale.
POND TOUR
Saturday July 20, 11am – 3pm
Sign-up to tour local Port Stanley ponds at your own pace. A few select ponds will be showcased! Pond owners will be available to answer your questions.Charge is $5.00 per person which will be donated to the Matt Mailing Centre for Translational Transplant Studies at London Health Sciences Centre.
FALL POND CLOSING SEMINAR/Q&A
Saturday August 17, 11am
Learn the basics pf preparing your pond fish and plants for the winter season. An informative discussion with a Q&A period following.