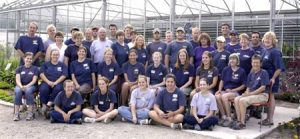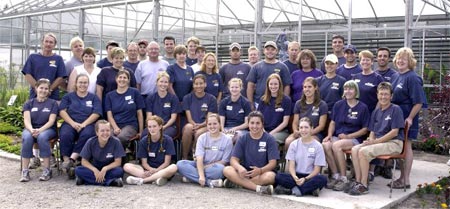 Moore Water Gardens was founded in the late 1920's by Monte B. Moore at his family residence in Port Stanley, Ontario, Canada. In the early 1930's the nursery was moved to its present location, just north of the village of Port Stanley.
Moore Water Gardens has been family owned and operated for three generations, always specializing in waterlilies and aquatic plants. Plants are grown on site where varieties are tested for hardiness and vigour, before being offered for sale. New varieties are introduced annually.
Customers are encouraged to strive for naturally balanced ponds whenever possible. Our dedicated, knowledgeable staff are always pleased to provide information and advice. Moore Water Gardens has a long tradition of dependability, integrity and attention to detail.
We at Moore Water Gardens look forward to seeing you in person, or you can contact us by fax, telephone, mail or email. Thank you for your interest in water gardening.
Farley See, Sue See & staff at Moore Water Gardens
The History of Moore Water Gardens
The concept of a water gardening business began in the 1920's at the Port Stanley summer residence of the late John S. Moore. Originally from England, John S. was an avid gardener who created an extensive garden using several interconnected concrete ponds as its focal point. He stocked his water garden with water lilies and aquatic plants purchased from the United States because, as yet there were no Canadian growers. This home still remains in the Moore family.
Mont, son of John S., was born in London, Ontario in 1901. After obtaining a MSc degree in entomology from the University of Florida, Mont decided to purchase a wetland area just north of Port Stanley in the early 1930's. This was to become the site of his Water Garden Nursery. A series of ponds were dug by hand, a greenhouse was erected and Moore Water Gardens was founded. It soon became a trusted source for quality aquatic plants and expert advice. Mont's wife, Isobel, joined the small staff working in the ponds, propagating and preparing plants for shipment. In those early years, daily shipments of bareroot plants and fish began their journey to our customers across Canada on the London & Port Stanley Railway. At the present time, potted plants leave Port Stanley via courier and Canada Post or customer pick up.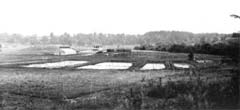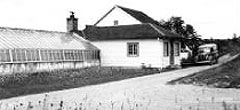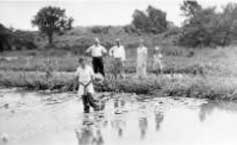 Comments received from our early customers:
"My order arrived yesterday morning. I found everything in first class condition- both plants and fish, and wish to thank you for the satisfactory way you have filled my order. I also wish to thank you for the extras; they have come in all three packages."
M.H. Eastlake May 19th, 1938. Montreal, QC.
"We appreciate your courtesy and promptness in executing even small orders. We have bought water plants from your Gardens for the past three or four years and have always found them satisfactory."
C. Millen July 18, 1940. Ottawa, ON.
"My lilies have been greatly admired by all who have seen them and have been full of bloom since May, with more buds coming. They are such satisfactory flowers with so little work."
F.O.W. Aug 4, 1942. Chemainus, BC.
"Had wonderful success with my lilies – they sure multiplied and are the talk of the town."
G.H.Y. St. James, MN Dec 13 1949.

As the years passed, ponds were added and the greenhouse expanded. Mont's children, John and Sue joined the staff and obtained degrees in Horticulture and Biology, respectively. During the 1950's and 1960's the interest in ponds increased. Cement tanks were installed to accommodate more plants during the growing season. Iris and daylilies, as well as miniature roses were added to the plant selection.
Eventually the grandchildren, Angie and Mark Moore, and Farley and Tammy See became old enough to "work in the ponds" on weekends and summer holidays, gaining an appreciation for water plants. Mont remained active in the business until a few days before his death in 1973. At this time, John pursued a highschool teaching career and the business was managed by and later taken over by Sue.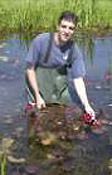 The 1980's and 1990's saw the introduction of fibreglass pools and flexible liners, making it possible for more people to install their own ponds with less labour and expense. Sue's husband, Larry, manufactured fibreglass ponds on site. The result was a new wave of watergardeners anxious to "get their feet wet."
In 1993, after obtaining his degree in commerce, Farley See joined the business full time, and we are now well into the third generation. As the popularity of water gardening has increased over the years, our facilities and staff have expanded to accommodate the demand.
At the present time Moore Water Gardens supplies a large selection of Canadian grown plants and products across the country from its original site in Port Stanley. Although many things have changed over the last three quarters of a century, our goal at Moore Water Gardens has remained the same as it was when Mont began – to provide quality plants at fair prices, with superior service and knowledge.
We invite you to visit Moore Water Gardens this year, not only to view the ponds and chat with our staff, but to gain an appreciation of the long and uninterrupted family tradition of instilling interest in water gardening.